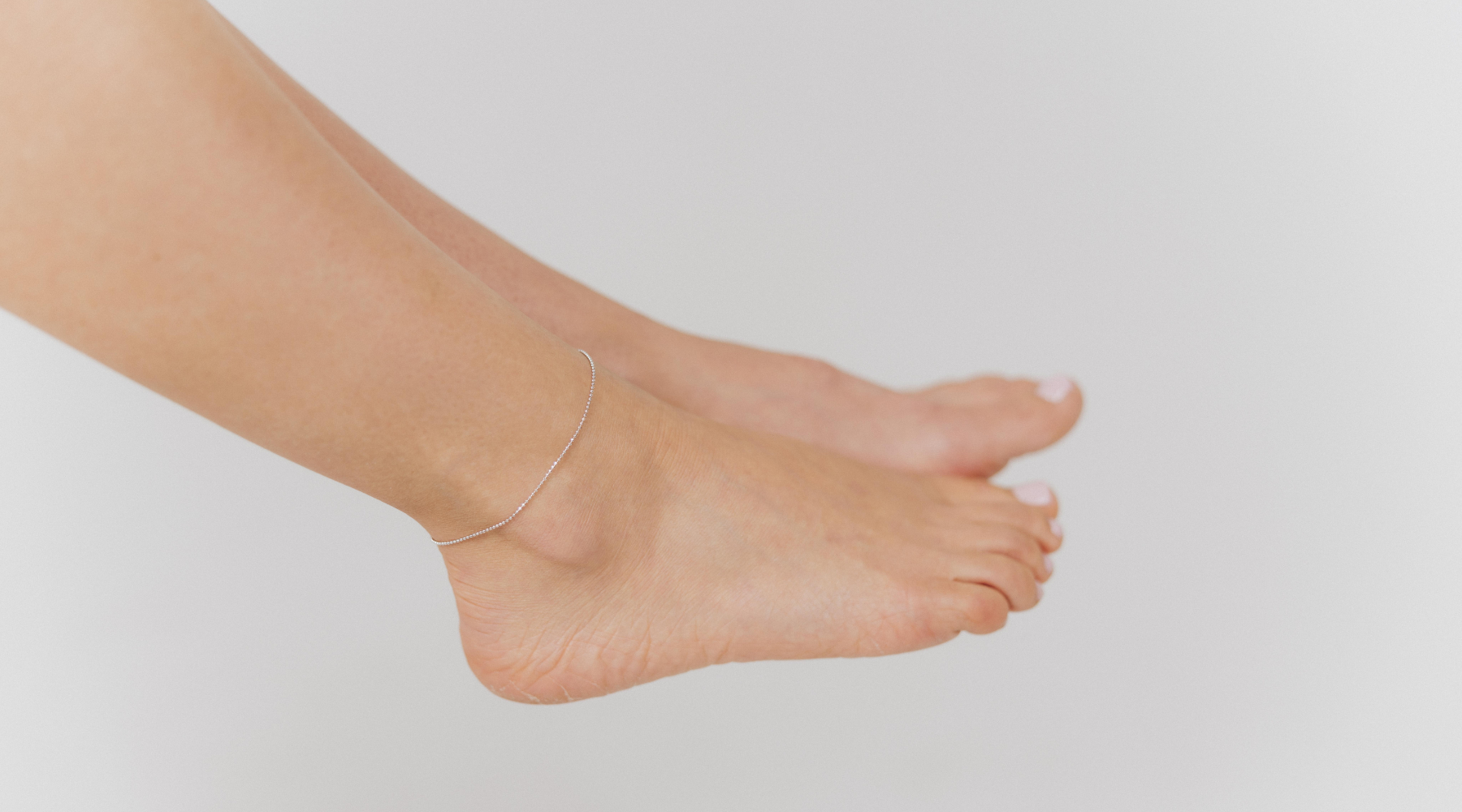 Keyword(s): anklet
The anklet is a piece of jewelry with a rich and storied past. It has roots in Indian, African, and Egyptian cultures. The first recorded history of anklet wear dates back over 3,000 years ago to Ancient Egypt.
Egyptians wore them as a way to pay respect to the gods. They were also seen as a way to ward off disease and protect them from accidents and other bad luck. They were often beaded and adorned with animal features like lions and claw motifs. 
In the modern era, the anklet is a fun and stylish fashion accessory. Adding jewelry accents like an anklet can help you play up your summer style. If you're looking for ways to style your anklet, then keep reading for 15 great ways to wear an anklet below.
1. Layered Anklet Styles
If you have an extensive anklet collection, but you're not sure which one to wear, don't despair. The beauty of the anklet is that you don't have to choose just one to rock. Layered and stacked jewelry is all the rage in the fashion accessory scene. 
Don't be afraid to layer multiple anklets to achieve a more unconventional style look. Play around with different chain lengths, metal textures, and colors to find what works. This lets you create a more personalized and eclectic anklet combination.
2. Bohemian Beach Vibes
Summer was made for showing off your legs and baring it all. But if your ankles look naked, you can easily dress them up in colorful anklet styles. This is especially fun if you're going for a laid-back bohemian beach vibe.
Pair a beaded anklet with your straw beach hat and wedge sandals. A flowy beach cover-up or maxi dress that stops just short of your ankles will allow you to show off your ankle jewelry. You're sure to be fabulous from head to toe, even if you're just lounging around the beach or pool.
3. Wear Anklets as a Statement Piece
Often, women will opt for delicate and thin anklet chains as a simple accessory approach. But if you're looking to make a bolder statement, then you'll want an anklet that stands out. 
Wear anklets with large charms to call more attention to your ankle and leg region. If you're not a big charm person, then choose anklets with intricate or intriguing designs that will catch the attention of onlookers in other ways. 
4. Jazz Up an All-White Ensemble
Summer is also a great time to show off the cool colors of white and ivory. These colors are naturally more resistant to the heat of the sun's rays so they're ideal for keeping cool in high temperatures. 
However, if you still want to look hot in other ways, a sleek and stylish metal anklet is the way to go. In a survey of women regarding their jewelry preferences, 35% of women preferred white gold for their metal type and color. This was followed by 17% saying they preferred silver jewelry.
Since white is considered a cool color, you can complement it with a cool metal tone like white gold or silver. But if you want to add a more interesting color contrast, then opt for yellow or rose gold to jazz up your all-white ensembles.
5. Summer Shorts and Anklets 
If you're in a shorts-wearing mood to beat the summer heat, an anklet is the perfect accessory to dress up your legs. Wear your favorite tank top and you'll have an effortless look that will take you through the summer in style. 
Summer shorts and anklets go together like ice cream and pizza. They're a timeless combo that is always on point, even when you're on the go. 
6. Capris and Anklets
If you're not one to want to bare your full leg, capris or crop pants are a good alternative. The peek-a-boo style of capris leaves your ankles exposed, meaning you can show off a stylish anklet accessory without oversharing the rest of you. 
Don't have access to crop pants or are worried they're not your style? Then you can easily just roll up or cuff your jeans to show off your anklet style. 
7. Amp Up Beach Wedding Styles
Summertime is the perfect time for beach weddings. Whether you're the bride-to-be, in the wedding party, or simply a guest of honor, adding an anklet to your outfit is a fantastic way to amp up your beach wedding style.
Choose an anklet with a beach theme, like a shell or a starfish charm. If you're the bride, anklets also make a great gift for your bridesmaids involved in the wedding to have a coordinating look.
8. High Heels and Anklets
If you want to take your anklet style to the next level, wearing high heels can do this both literally and figuratively. Heels help accentuate the shape and length of your leg, making it the perfect canvas for showing off a bit of anklet bling. 
Wearing heels, when accompanied by a stylish anklet, will make your look even more flawless. An anklet adds a level of appeal to a variety of outfit ideas. 
9. Monochrome Anklet Style
Another take on the anklet style is to wear shoes that match the metal color of your anklet. For example, wearing a silver anklet with silver shoes will give you a more coordinated look. Wearing strappy shoes with your anklet will also allow you to enhance your style for an eye-catching look.
You can also match the anklet thickness and style to your shoe straps. If you choose an anklet that has a thicker strap, you'll want to coordinate the appearance of your anklet with this strap. If you select a pair of shoes with more delicate or thin straps, choose an anklet to match this aesthetic.
10. Formal Anklet Style 
The common misconception about anklets is that they are only suitable for casual styles. But this is not the case. Anklets provide elegance and add a touch of class to formal outfits as well. 
A delicate anklet paired with a cocktail dress adds an element of sophistication to your outfit. An anklet with a decorative mirror chain will catch the light from every angle and help you shine on your big night out. 
11. Experiment with Different Anklet Materials
If you want to mix up the standard chain design of anklets, there are many other types of materials available to help you experiment with your look. Cubic Zirconia, pearls, and semi-precious stones are some of the most popular options you can choose from. 
You can also opt for an anklet with dangling elements for extra flair or one with the materials incorporated into the chain or string itself. The versatility of anklet designs lets you find the right one that works for your distinct style preferences.
12. Festival or Boho Chic Anklet Styling
The summer season is also about music and art festivals. Lollapalooza and Bonnaroo are two massive summer music festivals of note. The attendance at Bonnaroo 2023 topped out at over 70,000 attendees.
If you're a Boho chick who frequently goes to festivals or you simply feel like a Boho chic in your heart and soul, you can find great anklet styles to mimic this vibe. Look for anklets with beads, feathers, and woven textures, or metal anklet styles with multiple dangling charms for that Boho Chic attitude. 
13. Nature Lover Anklet 
If you're one with Mother Earth, you may want to opt for an anklet with more natural materials. This could involve anklet styles made of twine or hemp. Incorporate elements like wooden beads and natural crystal beads for an earthy connection.
You can even add shells and stones or semi-precious stones like turquoise. If there is a particular crystal you feel connected to, relating to the natural chakras on the body, this is also a great way to style your anklet to your liking. 
14. Personalized Anklet Designs
Anklets offer you many opportunities to personalize your style with metal colors and designs. But one of the best ways you can personalize your anklet style is by using custom or significant charms. 
You can use charms that have a special meaning to you, much like the Ancient Egyptians, by choosing a religious charm or other symbol such as a cross or angel wings. Some charms you can personalize even further by adding the engraved initials of a loved one. 
15. Anklets and Ankle Booties
While a majority of these tips for how to wear an anklet for enhancing your summer style, there is one you can use to carry over into the fall and winter months. Ankle booties are a fun way to help you style your anklets, even when the temperatures start to drop. 
Throw on your favorite sweater, jeans, and a pair of ankle boots. Then choose a flirty and funky anklet to accentuate your post-summer style. 
Find More Great Anklet Styles and Other High-Quality Jewelry at Roma Designer Jewelry
The anklet is a versatile and fashionable fashion accessory that has withstood the test of time. It has become an icon in its own right and allows women to further express their individual styles. With so many different anklet styles to choose from, you're sure to find the right one to fit your profile. 
Roma Designer Jewelry is your source for beautiful and high-quality bridge jewelry. Bridge jewelry offers a form of affordable luxury jewelry pieces between cheap costume jewelry and expensive fine jewelry. With bridge jewelry, you can build your personal brand with ease.
Browse our full line of anklets on our website and shop with Roma Designer Jewelry today.